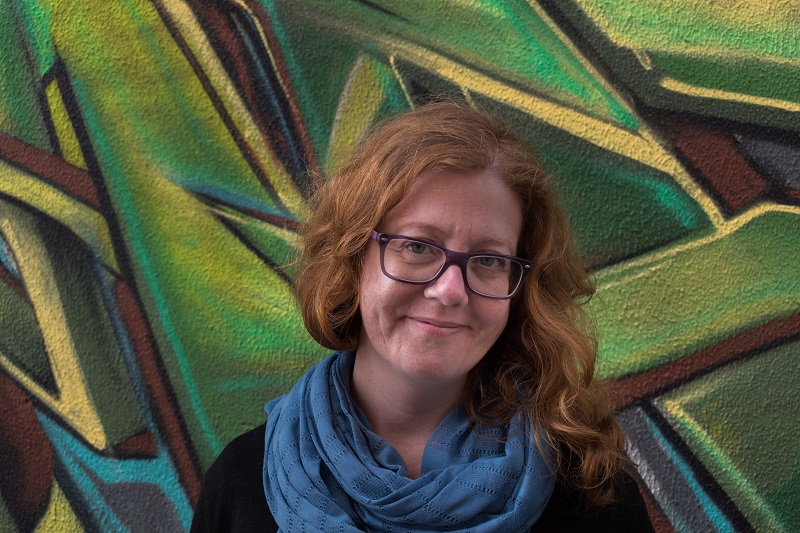 "I could go as far as a 30-minute train trip from Lisbon, and still meet fascinating people with stories to tell. Everyone has a story to tell and, so far, I've been fortunate that people open up to me easily and share their stories with me. What comes from that interaction is worth every cent I spent on a ticket. Even if it was a negative experience."
Sandra Henriques Gajjar is sharing her story with trip and holiday planner Sygic Travel. Check out Sandra's blog Tripper.pt or follow her on Instagram.
How would you describe yourself in 5 sentences?
In short, I'm the odd one. Not in the sense of weird, but in the sense that I stood out from the crowd my whole life (whether I liked it or not). I'm the only ginger in a family of dark-haired people, so family photos always bring up jokes. Influenced by that or not, I've always been curious and inquisitive. I was that kid who wouldn't shut up until I learned to write. Then my whole world went silent. I could (and still can) write for hours, just following where my mind and imagination take me.
Spending time with foreigners (my family from the US, the Italian that rented a house down the street from my cousins in the summers, the French kids from the military base I went to school with) piqued my curiosity even more. I believe I was lucky to know I didn't live in some sort of bubble. And my parents always made sure we had access to books with a lot of photos about other people and other cultures. I think the more diversity you have around you, the more open you are to accept people who are not like you. In a way, my privileged environment growing up shaped a lot of my personality. This is the reason why when people ask me "where are you from", I have trouble giving a short answer.
In a nutshell, I was born in the Azores island of Flores in 1978 and have been based in Lisbon since 1997 (with a failed attempt to be an expat in London in 2015). In 2014, after a unfulfilling career at a multinational corporation, I ditched my corporate job to become what I've always wanted to be since I can remember: a freelance travel writer. Besides founding Tripper (my blog about sustainable cultural tourism to offbeat destinations), I am also a frequent contributor to Lonely Planet (as a Lisbon local) and Skyscanner US.
What is your greatest personal accomplishment?
Being brave enough to quit the stable career to follow my dreams, definitely. It's so easy to get lost in fear of losing the steady job with all the perks. Perks that you think you need to survive but that are useless most of the times. In my case, I was obsessed with losing the company's health insurance which was stupid because I don't suffer from any chronic disease that makes me see a doctor every month. So, technically, it was a perk I needed for those "just in case" days.
I worked for 10 years in an area that had nothing to do with me or with what I wanted to do. I majored in Portuguese Studies (it mixes language, culture, and literature) and I felt like my degree was going to waste in that job. The diploma was appreciated but the knowledge I got at College wasn't. When I decided to completely change careers, I felt incredibly lighter. Much happier and healthier too. Sometimes I forget it's only been three years, because I've learned so much more on my own than I have in those 10 years at a corporate job.
How would you describe sustainable cultural tourism and why is it important for you?
Culture is everything that defines a group of people, their cultural identity - language, literature, customs, art, food and drink, social interactions, death and birth rituals, architecture. This was one of the first things they taught me at College. Everything is connected.
Cultural tourism is for people who want to know their destination at a deeper level and that can mean so many different things. For me, for example, cultural tourism is about food, customs, architecture, folklore and heritage, and art. For others it might mean literature, film, music, museums, and seasonal events (think Oktoberfest in Germany or Christmas Markets in Vienna).
But, as any other product or service in the tourism business, there's a very fine line between making a profit from gullible tourists and actually contributing to preserve the local heritage and cultural identity. For me sustainable cultural tourism is crucial for the future of the industry, because without respect for the local communities, their legacy and their privacy, there won't be much to see and explore. That's why I look to book accommodation and activities with small local businesses or connect with locals (this could be anything from chatting with a cafe owner to getting to know local artisans).
The "feel like a local" tagline is a scam, one that's been perpetuated by people claiming to be travelers not tourists. That's a misconception. We're all tourists. It would take us more than a month of immersive cultural experiences to feel like a local. Heck, I've been in Lisbon for 20 years and I still don't feel like a local 100%!
Sustainable cultural tourism helps create that balance between what visitors should see to understand a destination and what residents need to trust that their cultural identity will be intact afterwards.
What do you love the most about traveling?
The people, for sure, and their stories. I could go as far as a 30-minute train trip from Lisbon, and still meet fascinating people with stories to tell. Everyone has a story to tell and, so far, I've been fortunate that people open up to me easily and share their stories with me. What comes from that interaction is worth every cent I spent on a ticket. Even if it was a negative experience.
What is it you don't like about traveling?
Planning and packing. The minute I book a trip, my mind is already there. I'm already daydreaming about it. I'm still that little kid with the head in the clouds. I guess that's why I always pack at the last minute and do most of my planning on my way there. Probably not the kind of thing a travel blogger should admit! But I write stories, not guides, so I hope readers can excuse me for that.
What is the most common misconception about being a traveler or travel writer?
That travel writing is not a real job. That we're always having fun, that we don't really need to be paid for our work (I think that's a challenge everyone faces). That we're happy all the time (it's still a job, folks). That you don't need to have a real talent to write about travel.
As a traveler, that all travelers are Millennials. People in the travel industry are obsessed with Millennials! I have absolutely nothing against Millennials (I'm what you'd call a "xennial", between Generation X and Millennials), but I can't remember the last time a travel-related ad spoke to me.
Do you personally visit all the places you are writing about?
99% of the times, yes. The only exceptions are when I'm writing sponsored blog posts that don't need me to travel to the destination (but that's like 1% of all my blog posts). And when I'm writing about a place I haven't been to, I never imply that I've been there.
Why should people travel?
Well, I'm struggling to not give a cliche answer here. But the best way of shattering myths and seeing a destination for what it is is to go there. Now, I understand traveling is a very "first world" privilege. For a lot of people getting a visa to travel outside of their country is beyond their possibilities and, in my opinion, that's something that needs to be changed. Making it difficult for people to move around and travel is what builds up hatred, it's not the terrorist organizations. Because, let's face it, if things were easier, their propaganda wouldn't work would it? People could go wherever they'd like whenever they'd like. It would be good for the tourism business too.
Let me put this into perspective. When a travel blogger with an American passport stays in Europe for longer than their Schengen visa allows (6 months), they write a light-hearted blog post about it and everyone finds it funny, as in an "oops" moment. If someone with, say, an Indian passport did the same and wrote a light-hearted blog post about it, they would immediately be labeled as someone attempting to be an illegal immigrant (by locals, probably not by the travel blogging community). They would probably not be able to apply to a Schengen visa ever again.
The more normalized traveling becomes for everyone, the better. For sustainable cultural tourism that would be golden.
Which destinations are at the top of your bucket list right now?
I don't really have a bucket list but I do have a list of "dream destinations" that changes every year. For 2018, for example, I want to explore more of Europe (including my home country, Portugal). It's the first year of the European Year of Cultural Heritage and not only this topic fits my blog like a glove, I'm excited to find out what each country will do to highlight their cultural heritage.
Then, my eternal bucket list destinations are (in no particular order), Japan, China, USA (for the expected "cultural clash"), Angola and Kenya (for personal reasons), Cape Verde and Mozambique (for the food and the local culture and my connection with their literature since College), Brazil (to meet family). If I can make it to these destinations in the near future, I'll be very pleased.
What is the best way to experience a foreign culture?
Always start with the locals. In all my memorable experiences, people were central. They're eager to know you and you're eager to know them, so the cultural exchange is the most valuable thing you'll have from that trip. They'll explain you their customs and you'll explain yours (usually by comparison), and they'll obviously take you to the best places to eat local food - not what they think you'd like to eat, but what they think best represents their culture and way of life. Cultural identity is not lost, even with us being connected to the world the whole time. On the contrary. I've tried but I can't understand the appeal of all-inclusive tour packages and resorts.
If you had an unlimited travel budget for 24 hours, what would your itinerary look like?
I would probably hop on a train and do the Trans-siberian route as far as I could. I've been talking about taking this trip since I was 17. I can only imagine the stories I'd bring back from that trip, so for me it's not exactly about having an unlimited travel budget (to be honest, I have no idea how this trip would cost me).
If you should decide today, which country would you pick for retirement?
Six months in Portugal and six months in India. Although, I don't consider retirement. When you have a creative job (like writing), I don't think you ever stop working. Both countries are historically connected (and, well, I'm connected to India via marriage) and both have enough cultural heritage to keep me busy. In fact, I don't think I'll be able to cover it in one lifetime. Not as I'd like to anyway.
What is the most overrated country or location you've been to?
This is a tough question to answer! I should point out that it's always my mood at the time that affects my perception of a place (that's because I would hate if someone told me they'd disliked Lisbon, for example, without spending enough time to get to know it). I really didn't enjoy Madrid, for example, but I don't dismiss a second opportunity to go there and see it from a different angle. Maybe it was the heat wave or maybe I had high expectations because of too many friend suggestions (that eventually didn't allow me to get the vibe of the city on my own). I wouldn't call Madrid overrated, it just didn't click at first sight.
What is the most underestimated country or location you've been to?
I have to say my husband's home city, Ahmedabad, in India. You know how when you've lived in a place for all your life you can't see what outsiders see? You think there's nothing special about it? Well, that's what he would told me about Ahmedabad when I asked about the city. But, as an European foreigner visiting for the first time in 2014, I was amazed. And I'm very proud that recently the old city has become the first one in India to be classified as UNESCO World Heritage Site. They have so much heritage to be proud of and so much History (including the bridge near the Sabarmati Ashram from where Gandhi started the famous "Salt March", that practically triggered India's revolution for independence). Not to mention the architectural richness from Muslim and Hindu temples to the contemporary work of Swiss-French architect Le Corbusier. India is a huge, diverse country but tourists seem to go to the same old places all the time. It's about time we expand our travel plans to more offbeat destinations.
Thank you Sandra!
Simona from Sygic Travel
Sygic Travel has been helping people plan travel itineraries since 2011. Millions of people all over the world use their web planner as well as their iOS and Android apps.