Sygic GPS Navigation is compatible with Android Auto.
Learn More
Fleets & Workforce
Ready to integrate GPS navigation and Maps trusted by
2000+ fleets with more than 2,000,000 professional drivers.
Contact us
The 3 most integrated features by fleets
Commercial Routing for Trucks, Emergencies, Buses, Vans, Taxis
Automatically avoids all roads unsuitable for trucks, allows forbidden turns for blue lights...
Full offline functionality and itineraries
Maps stored on the device. Routes with multiple waypoints, and predefined time windows.
Execute routes exactly as planned to save costs
Help drivers to drive the same routes as planned in the office and improve your cost planning.
Maps with truck restrictions
Sygic Professional Navigation app automatically avoids all roads unsuitable for trucks, special cargoes, or hazardous materials. Using Sygic SDK, 3d party fleet management app can set vehicle parameters and start navigation taking into account all restrictions for given vehicle when calculating the route.
Learn more

Arie Van der Jagt
VP Region West, Transics, WABCO company
Sygic Professional Navigation is integrated with the Transics smartphone application to guide the driver through his entire assigned itinerary with navigation activated from Transics application at the push of a button. Sygic software is up to date, it is dedicated for trucks with possibility to enter truck or cargo parameters and, needless to say, it is convenient.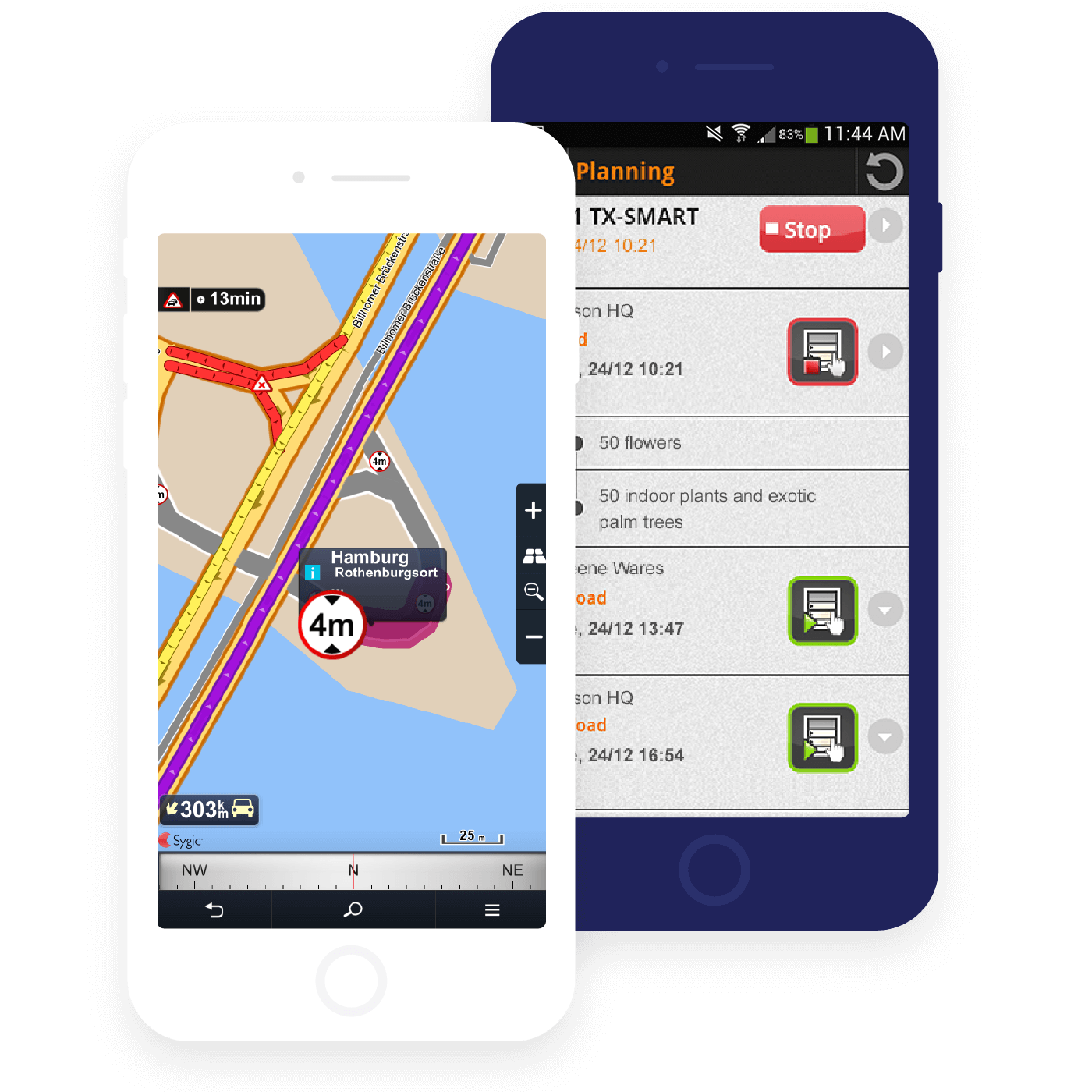 Setting vehicle attributes from remote
Vehicle attributes (dimensions, weight, HAZMATs) can be set up remotely over-the-air by dispatchers through "ChangeApplicationOption" API.

Total drivers has navigation menu customized in order to add or fix hazmat and other road restrictions directly from the navigation. In the navigation menu they have the option to mark the roads which are closed or problematic. These changes are then distributed to all other Total devices, and the navigation takes this into account when computing the route resulting in increased quality of routing for the whole fleet.
Accurate ETA and TTS for efficient delivery
The calculation of the arrival time is based on historical data measurements of traffic intensity for different times of day, which makes the ETA highly accurate.
Integrated with fleet management solution, Sygic Professional Navigation makes it possible to send information about ETA (using GetRouteStatus) to the dispatcher in real time. If needed, dispatcher can inform the driver about process changes using Text-To-Speech engine of the Sygic navigation.
Learn more

Ulrich Koch
Project manager at HERMES Einrichtungs Service
In this way, we carry out between 20 - 35 customer stops per tour. Approximately 1,600 tours are thus carried out daily with the support of Sygic within Germany, Holland, Austria and Switzerland. Sygic is very fast responding business partner and our wishes were implemented accordingly.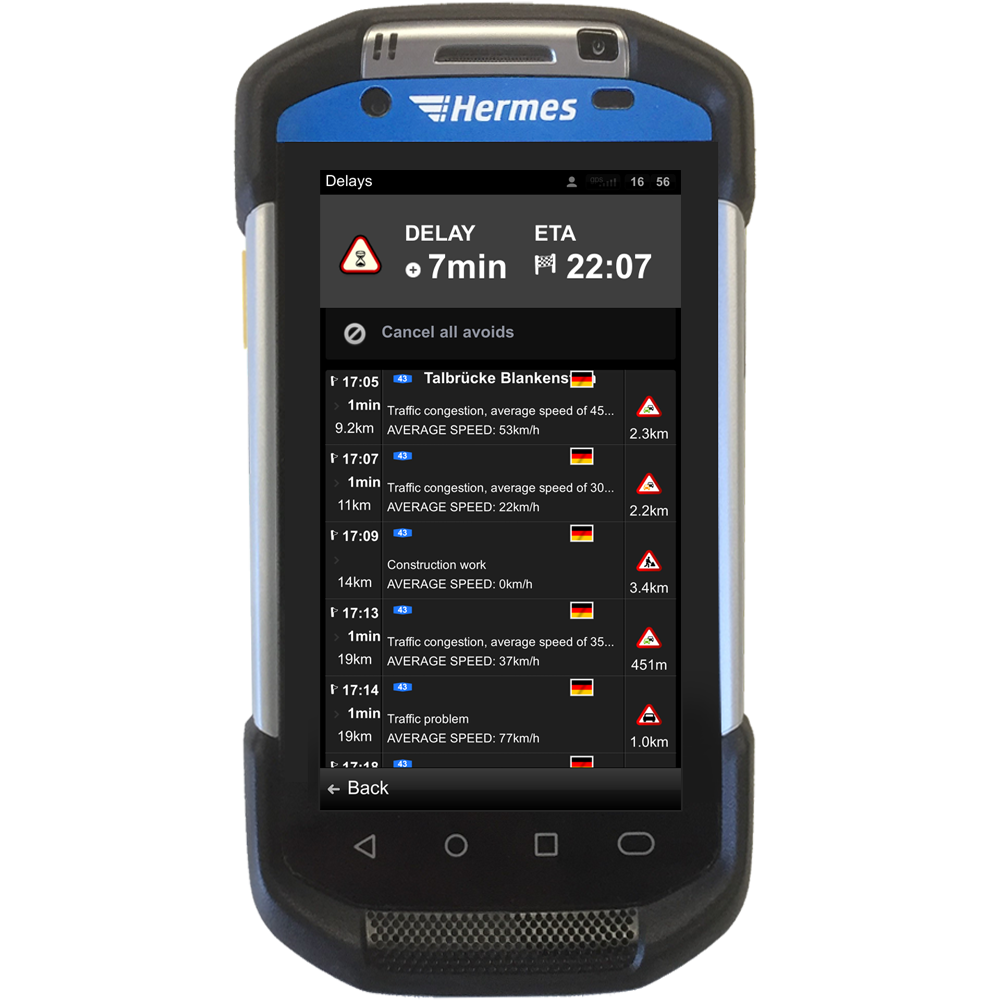 Send preplanned routes directly to your drivers and control the number of kilometres driven
Plan exact routes in your planning tool and send them to the Sygic Professional Navigation app for execution, taking restrictions based on truck, HAZMAT, and other settings into account. Helping drivers to drive the same routes as planned in the office enables you to get much better results in terms of planned versus driven kilometres and avoid fuel cost estimation discrepancies.
Learn more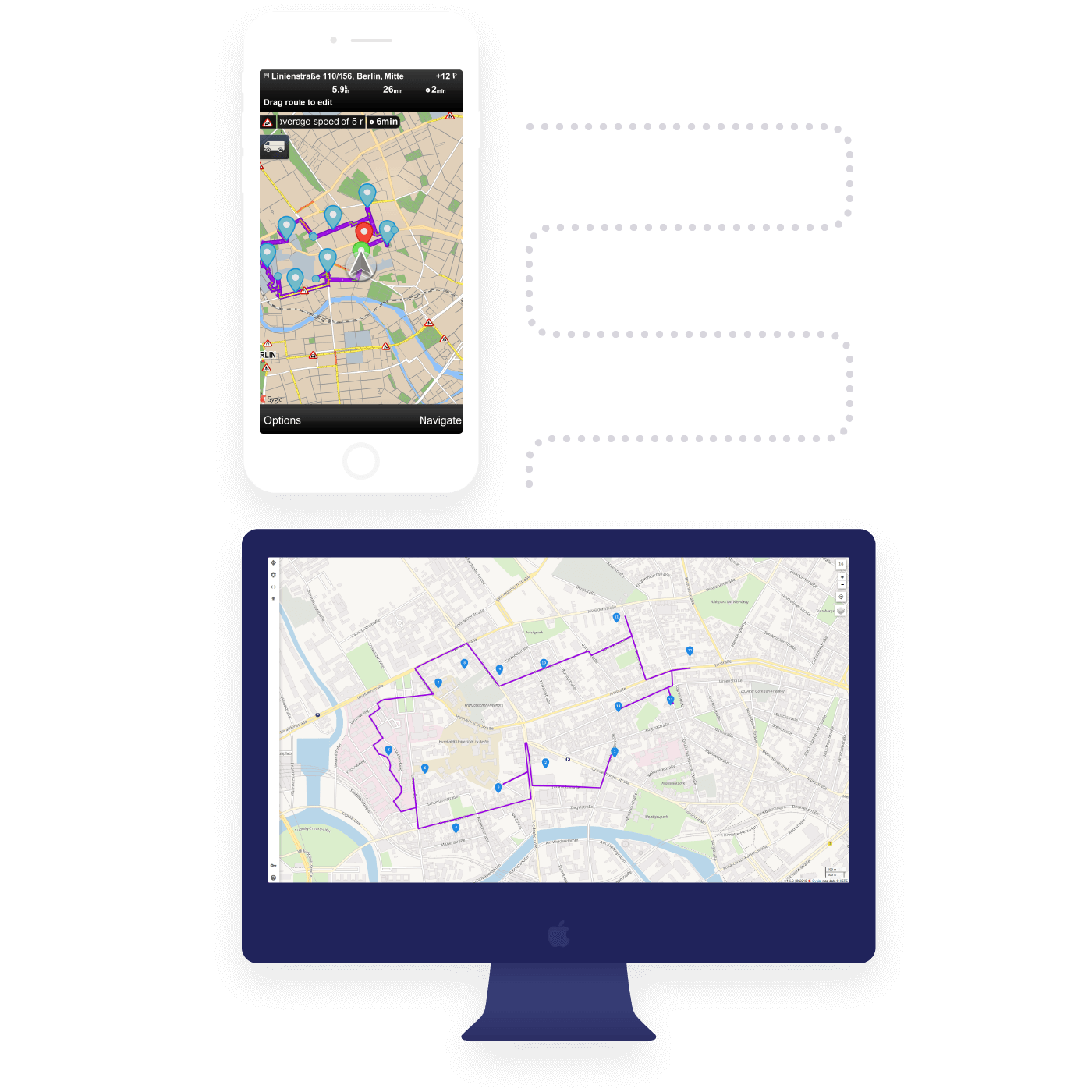 Tell us more about your needs
Interested in discussing your challenges with
us? Get a quote, or just ask about our products.
We are here for you.