Cockpit measures the G force and your actual speed to help you drive more economically. It is a powerful tool that shows you the real-time performance of your car.
Accelerometer will measure the G force while you drive. This indicator serves as a benchmark for the driver how to accelerate and corner safely with passengers feeling comfortable.
Lateral acceleration (Lateral G) will show you the incline and tilt of the vehicle. This shows the current angle of the car to avoid rollover for example in heavy terrain. GPS based speedometer will show you your true speed accurately. You will also see your altitude and detailed cardinal directions.
Cockpit will show you detailed driving information:
Acceleration (G-force)
Incline
Altitude
Speed (km/h or mph)
Cardinal directions (compass)
Navigation instructions and speed limits*
By watching the data, you can see if you accelerate or brake too quickly. High speeds, sudden starts and stops, and sharp corners don't do your vehicle any favors as they put excessive stress on all of your car's parts. Such driving behavior might result in more frequent repairs. By driving more efficiently and carefully, you can extend the life of your car and even save some money on fuel.
You can also see the data in navigation mode – just swipe the info bar at the bottom of the screen to see the data from the Cockpit feature.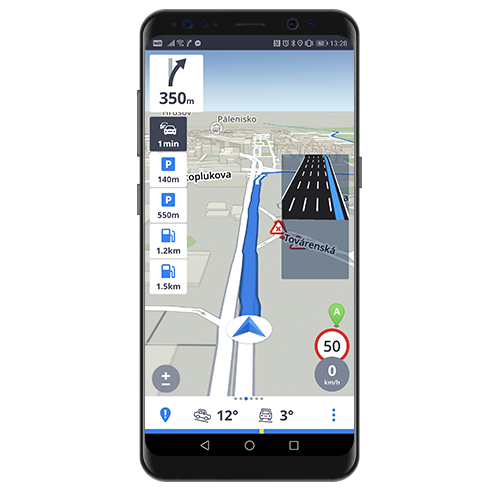 How to calibrate your phone for incline measurements:
The vehicle must be stationary, on a level road without steep inclines.
The phone should be in a holder.
Tap on Calibrate.
Cockpit is available in Sygic GPS Navigation for iOS, version 17.7.0 or higher and in Sygic GPS Navigation for Android, version 17.7.0 or higher. Find out how to use Cockpit here.
Cockpit feature is a part of our Premium+ subscription.
Visit Sygic Store on your device to check out our latest offer.
*Please note that you will see the navigation instructions in Incline mode and speed limits only if you have a Premium+ subscription.